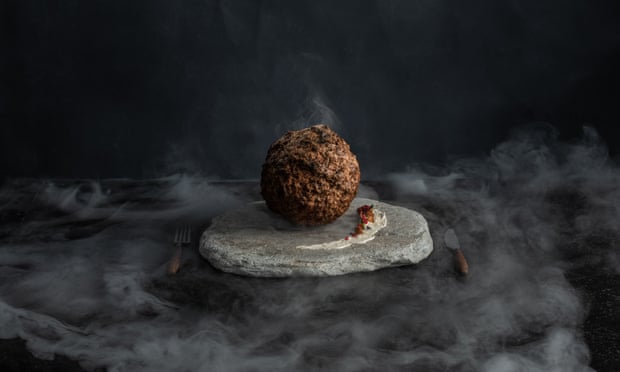 Ottawa's famed Rideau  Canal skateway didn't open to skaters this winter, for the first time since it was established in 1971. It was too warm
A couple of thousand kilometres to the west, the city of Winnipeg didn't have a day in March where the temperatures rose above freezing. Coldest it has been since 1889.
Thoa two facts are why what used to be called global warming is now climate change – scientists aren't sure what the weather will be.
Enter the mammoth meatball.
Scientists have created a giant meatball using DNA extracted from extinct woolly mammoths. It was proudly put on display in The Netherlands a few weeks ago.
I heard a radio interview with one of the team, who admitted he hadn't had a bite, that in fact the meatball is rather unappetizing. I guess it won't be used to solve food shortages, especially if they aren't sure it is safe to eat. Though I thought our ancestors ate mammoths.
They created this meatball, he says, as a warning. The woolly mammoth, he says, was wiped out by climate change. The same thing will happen to humanity if we don't change our ways
I'm sure I got the wrong message, but I couldn't help but wonder. What did the mammoths do to cause climate change?
It isn't as if they burned fossil fuels or logged the rainforest. They were just doing mammoth things, primarily eating grass I would suspect, then suddenly they weren't.
Some scientists think it was a meteor strike that caused a massive climate shift. I don't see how they could have prevented that. I don't see how we could prevent that either. Our space defence technology isn't quite that sophisticated
Maybe it is just me, but I don't think I need yet another lecture on climate change. After all, the high temperature in Ottawa today is forecast to be 28 Celsius. Normally at this time of year it is 10.
We don't really know what's going on, I get that. There are things we can do to slow things down, just in case we humans are the cause, I get that too.
I also know that, like with the mammoths, climate change could be from forces outside our control. They couldn't adapt to the change in their situation and they died.
If climate change turns out not to be man-made, if nothing we do can stop it, then we have a bigger problem. Will we be like the mammoths and fail to adapt?
You tell me